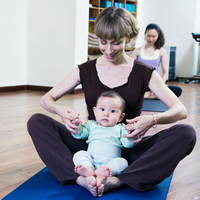 Stretch, breathe and relax with your baby at this fun  yoga class for mums and babies from 6 weeks to crawling.
You will learn …
Specific yoga poses to strengthen and tone your body following birth with lots of focus on the abdomen and pelvic floor.
Great stretches to release back and shoulder tension.
How to include your baby in your yoga practice including baby massage lessons.
Effective relaxation and breathing techniques to help you release tension and increase vitality.
This is a very relaxed class with all babies welcome whatever their mood.  You and your baby are also welcome to feed, change or sleep at any time!
Venue: Albany Yoga Room, 36 William Pickering Dr, Albany
Tutor: JoJo Hogan
Time:  Midday to 1.15pm
Start Date: Thursday February 8th 2018 for eight weeks.  (No class on the 1st March)
Classes are booked directly with the Albany Yoga Room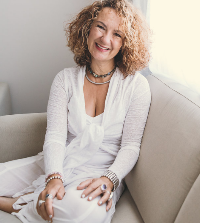 A massage therapist for 21 years and a yoga teacher for sixteen, I have owned and run the Bella Mama Pregnancy Spa & Wellness Centre since 2005.   My lifes work is supporting mothers, babies and families throughout the joyous yet challenging time that is the childbirth year.  My wish is that all mothers throughout the world are supported, honored and cared for so that they can do the important work of nurturing and loving their children.  It is my belief that mothers and babies who are born into a space of peace, love and respect will in turn bring that into the world, changing it for the better.
Jojo Hogan
Owner
Bella Mama Pregnancy Spa & Wellness Centre
Post-partum doula/yoga teacher/massage therapist

Jo Hayes
Mum to Sophie aged 5 months
I loved going to Jo's Mum & baby yoga class – not only was it relaxing and chilled for us Mum's the bubs seemed to enjoy it too! Jo is a fantastic teacher and is always available to take your bubs off your hands if they start to bawl. My daughter had plenty of cuddles with Jo and she loved it! Baby massage was also incorporated into the class and there was always lots of laughs and plenty of parenting advice being offered. Any new Mum's out there whether you are experienced at yoga or not will just LOVE this class! I wouldn't miss it!