NEW ZEALAND'S LEADING SPECIALISTS IN PREGNANCY & POST NATAL MASSAGE
HOME VISIT MASSAGE
How many times have you wanted a massage but for one reason or another have not been able to make the time or leave the home because of fatigue or other engagements? That is precisely why Bella Mama has created a home visit massage service. Sit back, relax and let us come to you. We are now able to treat mamas in the comfort of their own home. This is ideal for those who may not be able to make it into our clinic and especially suited to pregnant mamas or mothers with young babies who may not want to travel far away from home.
Why not book your partner a massage, too? Services booked at the same time receive a $25 discount on the total cost of both treatments.
This service is available in all Auckland areas. For distances within 20km from the Bella Mama Clinic, travel is included in the home visit treatment cost. For outer Auckland (20 – 40km) areas there is a supplementary $25 travel fee. Please inquire for travel fee prices for locations further than 40km. Please contact us for more information or location queries.
90 mins – $229  |  75 mins – $199  |  60 mins – $175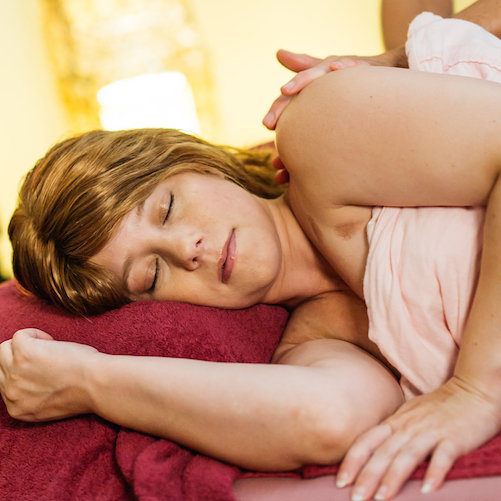 Amy Hinchco
Today I had the most incredible massage experience at Bella Mama.. I was booked in for a New Bloom Post Natal Massage with Javanese Spice Belly Wrap. It was heaven. I feel like a human again! Thanks Jenny!

Anna Papa and Ollie (age 5 months)
"Being pregnant with my son was a wonderful time in my life and having Bella Mama massages played a significant part in making it such a special time for me. A massage was not an indulgence, it was a necessity both physically and emotionally. It was a way to connect with the changes taking place in my body and the new life that was developing inside me. Jo, through her wonderful nurturing manner, was able to relieve both the physical stresses that pregnancy put on my body as well as the emotional strain and stress that I felt in my busy day to day life. After the birth of my son a post natal massage was a welcome relief from the pressures of new motherhood which had brought on a whole new range of physical and emotional strains!(and the cookies were very yummy too!) I would recommend a regular Bella Mama massage to any expectant mum as a necessary element in preparing themselves physically, emotionally and spiritually for the new phase of their life they are embarking upon."

Poppy - mum of baby Rose aged 3 months
A massive thank you for an absolutely heavenly home visit postnatal massage yesterday evening – I had the best sleep
I have had in months and feel like a new woman this morning!!