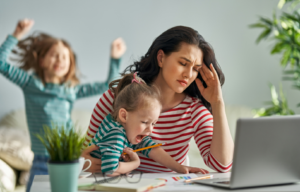 The mamas here in New Zealand have strongly overcome the pandemic, have not been imposed to stay at home orders, and are blessed with adequate childcare providers. Unfortunately, there are still some countries like the United States, where the situation has not improved due to which schools are still closed and women are working from home with no childcare facilities. Mothers from around the world are struggling to strike a proper balance between work and domestic responsibilities.
Dharushana Muthulingam worked as an infectious disease physician and public health researcher at Washington University in St Louis, Mo. Muthulingam worked for six to seven days a week including night shifts sometimes with her kids awake beside her. This year has been harsh on the family as Muthulingam and her husband moved to St Louis, far away from their family in California and Idaho due to work commitments and her father also had a heart attack this year.
It was very difficult for Muthulingam to cope up with the overburdened work along with the responsibility for childcare. The difficulty aggravated as she couldn't receive help from her husband. Times when her job was more intense, Muthulingam recalls that her husband who is a research scientist himself used to take up extra domestic load for many years. But lately, his job has become less flexible than hers. As Muthulingam received no help, it became extremely difficult for her to cope up with both work and domestic responsibilities. So Muthulingam made the difficult and painful decision to step back from her position as a research scientist to a part-time physician despite the fact that doing so may completely ruin her academic career. And because she's a public health researcher, that's not just a personal loss, it's an obvious loss to society."My decision keeps me up at night," she said.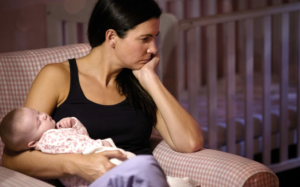 However, Muthulingam is not the only mother who had to bear the brunt of this unusual time. In the wake of the coronavirus pandemic, many countries have witnessed the closing of childcare centers forcing parents to struggle between work and taking care of their children. Due to the stay at home orders and other government mandated closures, some 60% of the licensed childcare providers have closed. And many are going to remain permanently closed in the absence of government aid. This excessive burden of supervising, caring, and teaching children, unfortunately, falls massively on the mothers. Studies suggest that the gender disparity between parental roles is fading and despite the male parental roles are growing, the perception of what men do as parents are still in the need of help. Due to the lack of help, mothers often have to give up their jobs. According to new research by US Census Bureau and Federal Reserve, women ages, 25-44 are almost three times more likely as men to not be working due to childcare demands.
In the article, " Evidence of Exacerbated Gender Inequality in Child Care Obligations in Canada and Australia During Covid-19 Pandemic " written by Regan M Johnston, Anwar Mohammad, and Clifton van der Linden and published by Cambridge University Press through a rigorous survey of thousands of both working and stay at home parents from April to June 2020, they came up with the breakdown of average hours per week spent on care pre-pandemic where men reported 33 hours of work per week on an average and women reported an average of 68 hours per week. When stay at home laws came in, men reported an average of 46 hours of work per week while women worked 95 hours of work per week on average. They concluded that the asymmetrical daycare obligations in Canada and Australia have amplified during the pandemic resulting in a disproportionate burden on women. They also argued that women in households with children report poorer mental health than men do. In an interview with global news via zoom call, Clifton also stated that despite both parents having full-time career/full-time jobs women are still taking a lion share when it comes to daycare responsibilities that have amplified when another support was taken away.
On the other hand, the founder of Pros& Babes, a mentorship service for working mothers, Kinia Romanowska and her husband together planned to create a family plan that would "protect" both of their careers. "We completely had to reevaluate our routine and simplify things to the maximum". "We started time-blocking really soon, early on, so we had a strict routine so our kids could adapt to the change and thrive," Romanowska said.
Romanowska's husband would take their sons, Jan and Lukasz, out for a hike in the morning while she worked. They tag-teamed lunch and maximized work time while the boys had an afternoon nap. Romanowska would take on the afternoon parenting shift and then the couple would try to get a little more work done after the boys had gone to sleep for the night.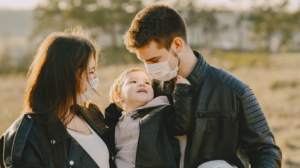 "There are families where it's true that a lot of child care is on the mom's shoulders," Romanowska said. "There are situations where women also negotiate the situation very effectively with their partners and find ways to make it work where men take time off work too and where women can focus on their career as well," Romanowska says in an interview with Global News that while pandemic may be aggravating the traditional gender disparities, it may also present an opportunity to reset. We are extremely proud of the Romanowska family . You mamas are the unsung heroes of this crisis. We at Bella Mama can understand how difficult it has been for Dharushana and all you mamas out there. Pandemic has definitely affected mothers' work in formal labor markets and their well-being as well. As mothers, you are strong, brave, resilient, and dedicated, but you are not superhuman. We mamas in New Zealand are blessed to have access to our child care facilities. We hope that all the mamas from other countries regain their access to child care facilities.
#keepyourselfsafe #socialdistanceing #Covid-19