Introducing Jo Hogan – Bella Mama founder.
For those of you who haven't met our lovely Jo, we thought an introduction was in order!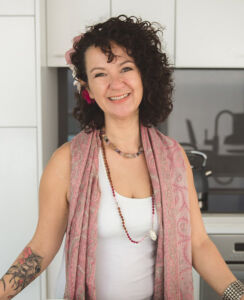 Whilst training as an aromatherapist and yoga teacher in the UK, Jo always had a vision to create a beautiful space that nurtures and supports mothers, babies and their families during this important and special time of their lives. After arriving back in NZ she started Bella Mama as a home visit massage service. Ten years later is has developed and flourished into a the only holistic spa and wellness centre in NZ that specialises in pregnancy, birth and motherhood with a team of talented and passionate therapists and midwives that support women and babies in the Auckland area.
Jo is now offering bespoke and personalised aromatherapy massage and/or yoga sessions suitable for pre/post natal or mama/papa maintenance. Her passion is supporting women during pregnancy and her specialist birth preparation treatments are also highly popular.
---
Jo's Services
Bespoke Aromatherapy Massage
Whether you are expecting a baby, a new mum or a busy parent, pure fragrant essential oils have the power to relax, revive and heal your body. With over 20 years experience at her fingertips, a bespoke aromatherapy treatment with Jo is the perfect way to create balance, decrease stress and improve your well-being both physically and emotionally. During each treatment, a personalised blend of pure essential oils will be chosen and expertly blended especially for your needs. This blend is then used in a deeply relaxing massage which may be combined with reflexology and acupressure points. Feel free to ask Jo about any maternity or well being concerns you may have. She is happy to share her wealth of knowledge with you and advise on how to incorporate aromatherapy, yoga and relaxation techniques into your life.  Aromatherapy can also be incorporated into birth preparation treatments (see below).
One hour – $130
75 mins – $165
Treatments can be tailored to pregnancy, birth preparation, post natal or general massage for either mama & papa.
Private Yoga Sessions
A one-on-one yoga session is the ideal way to begin or deepen your yoga practice with a personalised program suited to your body. Sessions can be tailored to pregnancy, post natal or general yoga with a focus on safe alignment and relaxation. Yoga sessions can also be combined with aromatherapy massage treatments. You will also receive a written program to use at home.
One hour – $90
Birth Preparation Sessions
Your baby's birthday will be one of the most memorable and important days in your life.  The weeks proceeding this is a time when you deserve the best possible care and attention. Suitable from 29 weeks onwards Jo's personalised birth preparation sessions can be a blend of massage, aromatherapy, reflexology, acupressure, yoga and meditation. As a pre-natal yoga teacher and pregnancy massage specialist of over ten years, Jo's role is to both support and inspire you to think about your hopes and wishes for the birth of your baby as well as to provide you with time and space to deeply relax and connect with your baby in the womb.  It's recommended to have at least 3 x birth preparation treatments in the third trimester.
75 mins – $165
Book 3 or more treatments and receive a complimentary birthing massage blend
Massage in Pregnancy & Birth Workshop
This fun and practical three hour workshop is designed to promote the many benefits of massage for a pregnant women and her baby as well as teaching simple yet effective techniques that can be utilised in the birth room for relaxation and pain management.
 "If there is one piece of advice I can give – its that all partners should attend Jo's massage course. Rickie was awesome with his massage and it really, really helped."  Michelle S.
To find out more or book a treatment or yoga session with Jo – call the Bella Mama clinic on 09 4457591 or email info@bellamama.co.nz