NEW ZEALAND'S LEADING SPECIALISTS IN PREGNANCY & POST NATAL MASSAGE
MASSAGE IN PREGNANCY & BIRTH WORKSHOP
A fun, practical workshop for women and their birth partners, teaching them the techniques and benefits of massage during pregnancy and in the birth room.
During this workshop you will learn…
Why massage is an essential & much appreciated way to care for a pregnant woman & her baby
The 10 most effective and blissful massage strokes to soothe and relax her during pregnancy and labour
5 important skills that a birth partner can use to play an active and supportive role in the birth process
How different massage techniques, positions and breathing can be used during labour to ease discomfort and increase relaxation.
Date:   Saturday 7th April 2018
Time:  2pm to 5.30pm
Venue: The Yoga Tree, Cnr of Lake Road & Tennyson Road, Takapuna
Investment: $99 per couple
Places are limited to only 12 couples so book now to avoid missing out.

Megan, Edward and Nina
Hi Jo, just wanted to drop you a line to let you know our little daughter Nina Sameya Howie was born on Sunday 12th April after a very quick and efficient 8 hour labour (she is my first so I feel quite proud of this!). She was born at our home in a gorgeous, graceful water-birth. My labour was the most magical, empowering experience and the love I felt for our little girl once she arrived was too much! My husband Edward and I attended your massage course in February and I came to yoga the week before she arrived and I just wanted to say how much your calm and sensitive approach to pregnancy and upcoming labour empowered us both and prepared us emotionally and mentally for the big event. Edward's touch helped IMMENSELY during my labour – we needed little else other than the 'contraction distraction' manoeuvre but he was able to participate and assist me with two thirds of my contractions and it was so special being able to share this with him. (The other third of the time he was zipping around lighting the fire, finding relaxing music, making a loaf of bread(!) and being all round fantastic! So I got through these contractions myself with calm, relaxing breaths.) We both learned so much from you in your course – so much more than a few massage strokes, and we'd like to say thank you so much for sharing your expertise and knowledge with us, it has proven to be invaluable! We will be telling our friends and families about Bella Mama and the wonderful service you offer -many thanks again!

Craig, proud father of Lucy
Jo, thank you so much for teaching me the skills and techniques about how to be a great birth partner to my wife not only for pain relief massage but also for the birth experience. When I was invited to the course by my wife, I'm sure the words were different but what I heard was "I need you to spend about $100 to come and give me a massage, oh, it's on Friday night, and it'll take 3 hours." Suggesting i was 'not pleased' would be a gross understatement. However, I genuinely enjoyed every minute, genuinely felt I was learning something, and it was actually a great experience to know that i was able to be of not only emotional but also some physical support to my wife while she is going throughout the latter stages of her pregnancy and also the birth. I happily gave her many (reportedly) effective massages leading up to, during and after labour. I learnt more in this 3 hours about how to be a good birth partner than I did in 6 weeks of antenatal classes and it helped me to look at the upcoming birth in a whole different way. Lads, this isn't a wishy washy waste of 3 hours, it works, I have recommended this class to a number of dads-to-be and I recommend it to you, even if the ABs are playing.

Nicola and Dustin
I must also mention, that after attending the massage course, we seem to be much more highly educated than a. the average joe blogs at the ante natal classes and b. most women who have had kids and swear by drugs and induction. We learnt more in your workshop than we have in 3 weeks of ante-natal classes. So we've been promo'ing your course everywhere we go. 🙂 We also feel a lot more empowered to make decisions that suit us which is amazing!

Michelle S
If there is one piece of advice I can give – its that all partners should attend Jo's massage course. Rickie was awesome with his massage and it really, really helped.

Karen O
A note on the Massage Workshop, I confess I brought a somewhat less than obliging fiancée who balked at giving up his Saturday afternoon to humour me and our unborn child. But drove home with a total convert who has been recommending it to all our mates whether they be pregnant or not!

Francesca
Hi Jo, I've been meaning to email you to say thanks again for the labour massage class Alan used some of the strokes on me in labour while I was in the shower on the Swiss ball and they were great. I had a great labour and now have a beautiful baby girl ,Beatrix Mary, 8lb 13 and no pain relief.

Sarah & Jared
Thanks so much for the course on Saturday… Jared & I found it SO helpful and informative, we learnt so much more than we have at our antenatal classes! We both feel so much more confident going into the birth now. And yesterday Jared gave me a wonderful foot rub, for the first time in our 8 years together! It was worth coming for that alone!! I've been raving about it to pregnant friends & their hubbies so I'm sure you'll get some more bookings. Thanks again.

Cleo and Brian Basco
Dear Jo, This has been a long overdue email since it has been 4 months since I gave birth. I just wanted to say thank you for organizing the "Massage in Pregnancy and Birth Workshop" which my husband Brian and I attended June of last year. We both enjoyed it and following the workshop my husband gave me back massage 3x a week until I was due to give birth! The massage techniques we learned from it also helped me to give birth via a natural (drug free) and normal delivery! Until now I/we couldn't imagine that I was able to do that since I have low pain tolerance. Although it is really was my goal to give birth drug free for my baby. Brian was great during my labour as he massaged my sacrum as I lent towards the birthing suite wall and swayed my hips. The midwives and my doctor were so impressed and happy with our teamwork during the labour and actual birth. After 5 hours of hospital labour, I gave birth to a healthy and beautiful baby girl named Briana Chloe (comes from our name). 🙂 We highly recommend attending the Massage in Pregnancy and Birth Workshop from Bella Mama to all our pregnant friends. 🙂 Again thank you and all the best to you and the rest of the Bella Mama team. Cheers, Cleo and Brian Basco PS. Brian and I had a lovely time with our Bella Mama and Papa massage last Saturday with Becky. 🙂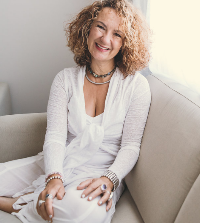 To the women I know and to the mothers I will meet, it is with elation and gratitude I welcome you to the work I love so much – Auckland's own, Bella Mama Pregnancy Spa & Wellness Centre.
Fueled entirely by the fire in my belly, I built this business in 2005 so that I could satiate the deep calling I felt to care for mothers doing the ever important work of nurturing & loving their children. Very early in life I recognized how much women did for the people around them but how little they did for themselves. Over the past thirteen years we have cared over over ten thousand mothers and babies, providing a sacred sanctuary where they can be honored, supported and celebrated.
It is truly my belief that mothers and babies who are born into a place of peace, love, joy and respect will go on to thrive and positively contribute to the world around them. With the intention of filling their cup with abundant bliss, my desire to inspire better health in each wonderful mother of this world, transformed into the establishment you see before you today.
Looking most forward to serving you,
JoJo Hogan
Owner, Postpartum Doula, Yoga Teacher, Massage Therapist, Birth Educator